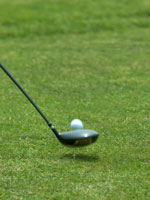 Tee time reservations can be made 10 days in advance.
There are 4 convenient ways to make a tee time:
Book them on the internet
Call our 24 hour Tele-Tee System
Call the operator (x0) from 9am-3pm Mon.-Fri
Call our Golf Shop (x6) during hours of operation 7 days a week.
The following charts will help you plan when to call.

Please Note:
In order to book online you must pre-register in the system. Once your 10-digit phone number is provided and a profile set up you will have access to our tee times for on-line reservations.
| | | | | | | | |
| --- | --- | --- | --- | --- | --- | --- | --- |
| To Play: | Mon. | Tues. | Wed. | Thurs. | Fri. | Sat. | Sun. |
| Book: | Fri. | Sat. | Sun. | Mon. | Tues | Wed. | Thurs. |

Book your next tee time 10 days in advance starting at:
General Public
| Tele-Tee System | Internet |
| --- | --- |
| 8:00 pm | 8:00 pm |
Gold Card, Full Season Pass
| Tele-Tee System | Internet |
| --- | --- |
| 6:00 pm-8:00 pm | 6:00 pm-8:00 pm |