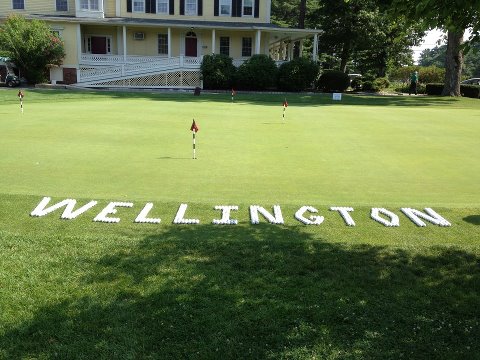 A great addition to a corporate business meeting or golf outing is a group golf instruction clinic. The clinic can be set up as the main focus of the day surrounded by a business meeting and lunch or as part of an event that allows those not comfortable playing in a golf outing to participate in the day as well.
Description: Our corporate or outing clinic includes three instruction stations that maximize the time scheduled and also provide a personal feel to the students. The Director of Instruction from our golf school will work with your group of any/all skill levels.

We will set up an Elimination Station, a Pitching Station, and a Full Swing Station. At the conclusion of the clinic we gather for questions and answers followed by a formal closing and a group photo.
Shuttle to and from Private Driving Range
Sitting area for opening and closing presentations
We cover long game (Full Swing Station), short game (Pitching Station), and body movements (Elimination Station).
Private setting with personal feel for students
6 to 1 ratio
Group photo
$65 per person per hour
Minimum of 6 people
Custom options for your clinic: Addtional fees apply and are TBD
Video for swing analysis and computer software review
Personalized voice over swing instruction from your PGA Professional
Catered food (hot or cold appetizers), beverage services with bartender
Tent (table, chairs, easel, etc)
Microphone, Speakers, amplifier, etc...
Additional practice time at the private range
This clinic can be done in either a one hour or two hour format:
978-568-1100