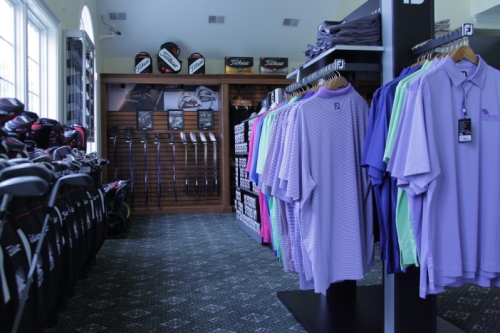 Stow Acres Country Club has a fully stocked full-service Golf Shop. In order to provide a consistently high quality standard in merchandise, equipment, and customer service we are stocking our shelves full with our favorite brands. Stop by and see what the various spring lines have to offer.
Other services the Golf Shop offers include:
Gift Cards
Custom Club Fitting or Club Repair services
Corporate Merchandise and Awards
Custom Orders of Equipment or Apparel
GHIN Handicap Services
Trade-in of your brand name equipment for golf shop credit
It is our goal to provide the utmost in customer service. We take great pride in all that we have to offer, and we look forward to assisting you in the near future. Please feel free to stop by the Golf Shop with any questions you may have on programs offered, equipment, or even a rules question. Our friendly staff is always glad to assist you in any way we can!
Contact the Golf Shop at (978) 568-1100