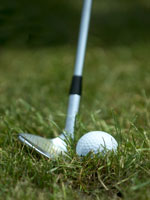 Stow Acres Country Club has been the host for thousands of golf outings and events over our 90+ year history. Our facilities, including a Victorian clubhouse function room, tavern, champions' grille, patio, two championship golf courses, golf school, and extensive grounds with practice areas, are the perfect back drop for many types of corporate or fundraising events.

Any event that has a golf component will be handled by our Golf Outing office. We are eager to help you plan your outing whether it is a double shotgun on both courses with a banquet to follow for 288, or a business meeting combined with lunch and clinic or 9-holes for 20 people. Big or small we can customize your day to be just what you need.
The Victorian Clubhouse Function Room seats up to 288 for a golf event and houses a beautiful fireplace and panoramic views of the courses. During the summer months, stroll the grounds or relax on the wrap-around porch. Winters provide a cozy atmosphere and an opportunity to warm yourself with a drink from our renovated bar.
The Tavern can seat 50 people for sit-down service, or can be used in conjunction with the foyer, porch, and patio for larger cocktail parties. The tavern is ideal for small business meetings or luncheons, showers, family gatherings, etc...
Champions' Grille is our informal golfer's restaurant; it can accomodate up to 90 guests. It is available for private parties in the off-season (November through March) and is a popular destination for school sports banquets and birthday parties. During the golf season, it is a great place to relax with friends after your round. Champions' is open to the public as well with an extensive counter-service menu.
The Patio has been transformed into something new. Featuring wonderful outdoor atmosphere, it's a great place to unwind after golf with a drink and assorted menu offerings. The patio is also available for private parties of up to 60 guests.
Visit the Weddings & Events page to learn about The Ball Room and other event opportunities at Stow Acres that do not include a golf component.