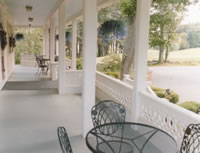 The staff of Stow Acres Country Club wishes to congratulate you on your engagement. We appreciate your interest in our facility and welcome the opportunity to be a part of your special day.

To schedule a personal visit or request an information package contact: 978-568-1100 Ext 4 or fill out the Wedding/Events inquiry form to the left.

Click here to contact the Function Office via email
Stow Acres Country Club offers a setting that is both beautiful and unique to this area. Nestled in the rural town of Stow, our Victorian Clubhouse is accented by tasteful interior decorating, a huge fieldstone fireplace and panoramic views of our two golf courses.
During the summer months your guests can stroll the grounds or relax on the wrap-around porch. Winters are wonderful, too, with our fieldstone fireplace to provide both warmth and atmosphere. There are many locations for both outdoor and indoor photography. Also, there is ample parking for functions in our two parking lots. Stow Acres Country Club offers the services of our exclusive caterer, Juliana's Catering, to provide all of your event management, catering, and beverage services. They are experienced and eager to serve you and your guests.
Be assured that Stow Acres Country Club will spare no effort to ensure that your wedding day will be filled with happy memories.
Facility
The Ball Room can seat up to 300 guests and features walls of windows, a beautiful fireplace, bandstand, a tavern, and a generous dance floor. This space is ideal for large private parties such as wedding receptions, golf or corporate banquets, and holiday events. Use of the ball room also includes the foyer, tavern, porch, and patio for the duration of the function.
Other Special Events
Wedding receptions are not the only functions we host at Stow Acres. Our function room is also ideal for fundraisers, Bar/Bat Mitzvahs, holiday parties, proms, meetings, seminars, customer or employee appreciation events, retirement celebrations, dances, and other social events. We also offer a variety of settings for smaller parties like showers, birthday parties, rehearsal dinners, and more. We welcome the opportunity to help you plan your special party.
Visit the Outings & Corporate Services page to learn about event opportunities (that include a golf component) and additional facilities.