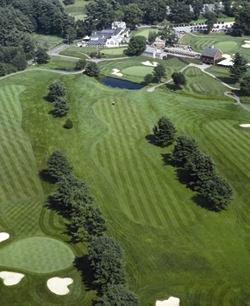 Stow Acres Country Club's beautiful site is distinguished by two award winning championship 18-hole golf courses, the North and South, anchored by an antique Victorian Clubhouse. The two courses were designed by noted achitect Geoffrey Cornish.
The North was selected as one of America's 50 best public courses by Golf Digest and hosted the U.S. Amatuer Public Links Championship in 1995 (only second time ever in New England). For many years Stow Acres hosted the Monday qualifier for the PGA's Deutsche Bank Championship held at TPC Boston.
The Courses
Around 1920, the parcel of land was purchased by Charles M. Cox, a wealthy grain merchant from Boston. Mr. Cox played golf, and it was he who began the legacy at Stow Acres Country Club. Local information maintains that Mr. Cox used the property to establish a golf course that was open to African Americans. They were unable to play at other courses due to the unfortunate, yet inherent, segregation of that period of American history. In 1926, Stow Acres, then known as Mapledale, was the site of the first "National Black Men's Championship".
Over the years, Stow Acres changed ownership several times. In 1954, the Pages, three brothers from Waltham, bought the property and expanded the course from 9 holes to its present 36-hole layout. The course was again sold in 1986 to Walter Lankau and Roger Kane. An extensive renovation of the clubhouse took place at that time. In 2016 Stow Acres was acquired by Black Swan Management and Investments began immediately to return the courses to wonderful condition. Stow Acres is one of the most popular sites in Massachusetts for golf events.
Improvements to the golf courses and clubhouse will continue for years. 2016 projects included bunkers, tree work, underbrush clearing, new mowers, cart paths and facility wide fertilizer. We have purchased brand new golf carts with rain covers for the 2017 season and look forward to an extensive clubhouse makeover.
Stow Acres has been through a steady and dramatic transformation - from 19th century physician's country estate to an award-winning golfer's mecca - all within the space of 100 years. There is a great measure of pride in Stow Acres' historically significant past. We are equally positive about its very important position in the history of the great game of golf in New England. May there always be people who come to enjoy its beauty - and its challenges - for another hundred years.